1Hand SMS Spanish Keyboard
We just made new app called 1Hand SMS Keyboard !   日本語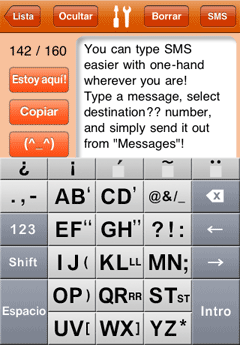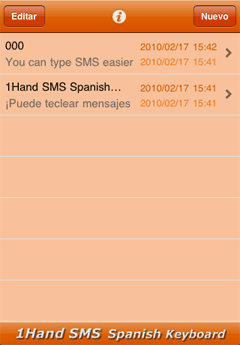 Application Series

1Hand URL Free
1Hand Keyboard Series

SMS (^^) Smile Series
Easy URL Free
Easy Keyboard Series

Please Share


educare_4us

1Hand SMS Spanish Keyboard
Type SMS easier and faster with one-hand !
Type a message, select destination number, and simply send it out from "Messages"!

Want to try this keyboard ?
- please check out "1Hand Keyboard URL List Free".
Special Features
* Arrow keys to move caret right and left faster for easier text editing
* Auto save feature to save messages with destination number in "list" as fixed phrases
* Your current location info can be copied to the message field with a single touch
* You can select destination number from "Contacts" and insert it to "To" field

* Friendly alphabetical character array with 13 multi-input keys with just 2 characters each to type faster and easier
* Ideal key size that reduce probability of typographic errors
* Adjustable character counter
- Note -
* Sending the message and destination number to "Messages": Tap "SMS" button to launch "Messages" and destination number is being copied to "To" field automatically, but you need to double-tap the message field to paste your message.
* Location info: The location info you insert into the message by tapping "I'm here!" button may not keep its accuracy when you are on a moving train/car, etc.
Copyright (c) 2009 - 2013 Educare All Rights Reserved.